The CSPR Creative Team
Charlene Shirk
Creative Director & Founder
Charlene is a mainstream media powerhouse. Her specialized media expertise, community relations background, and excellence in creating strategic partnerships provides the cornerstone of CSPR/C Shirk Productions, LLC. An Emmy-nominated broadcast professional, Charlene's television appearances include The Chat, First Coast Living, Good Morning Jacksonville Saturday, First Coast Fridays, First Coast News, Passport to New Homes. She has lent her talents to commercials, campaigns, and community relations for the PGA Tour, The Player's Championship, Larry's Giant Subs, Coggin Toyota at the Avenues, Hormel Chicken,The Fair Tax Plan, United Way and the Florida Department of Transportation. Charlene is a well-decorated industry professional, with four Associated Press awards, two Excellence in Media Axiem awards, two state-wide Media Excellence awards, the Harold A. Maio Journalism Award for individual achievement, a Suncoast Regional Emmy nomination, an Outstanding Achievement in Broadcasting award (for feature-series) as well as several community and citizenship awards. Locally, she was dubbed "Best Pitchwoman" by VOID Magazine. Her strength in providing comprehensive business marketing solutions make her a true leader in the industry.
Lindsey Gast
Marketing and PR Strategist
Lindsey has over a decade of public relations and media experience, with strengths in retail and the arts. Recognized by the Orlando Business Journal for her innovation in media kits, Lindsey has brought award-winning expertise to clients such as McDonald's, Winn-Dixie, The Florida Mall, Maggiano's Little Italy, The Palm Restaurant, The Georgia Pecan Commission, AutoLoop and Mighty Music Group. From development of comprehensive, strategic media plans to crafting specialized media pitches, Lindsey keeps clients on trend, on target and on schedule. Her vocal talents have been utilized in music production, voice-over and audiobook recording, and she served as an on-air television pitchwoman for Lowe's Home Improvement. Lindsey graduated with honors from the University of Florida with a Bachelor of Science in Public Relations and an outside concentration in Business.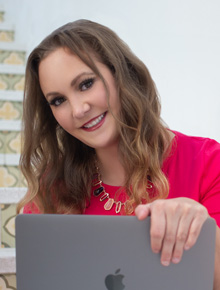 Amanda Clark
Digital Media Strategist
For the past ten years, Amanda has worked in marketing, communications, and advertising, with expertise in political advertising and the QSR industry. She has brought her expertise to Krispy Kreme Doughnuts, Diageo, and has worked on campaigns for FedEx and Delta Airlines. She has also worked on advertising campaigns for numerous federal, state, and local politicians. Amanda helps organizations boost their sales, donations, and exposure by crafting strategic and creative marketing plans. She has worked with organizations around the country and around the world and has produced advertising materials in multiple languages. Amanda graduated from the University of North Florida with a Bachelor of Science in Communications (swoop!) but it's her diverse range of experience that helps her stand out from other marketers. Before she pursued marketing Amanda worked in radio for Cox Media Group and WKBX in Kingsland, Georgia.
Samantha Brewer
Graphic Designer
Samantha Brewer has over a decade of graphic design experience in every aspect of new and legacy media. Her work has supported public affairs campaigns, corporate positioning, social marketing, advertising, and collateral production. She currently provides freelance consulting for several public relations/marketing agencies. Previously in her career she was the corporate communications coordinator at The St. Joe Company. There she handled graphic design on behalf of public affairs campaigns for West Bay, the largest master planned development in Florida anchored by the new Northwest Florida Beaches International Airport. For the airport and industrial complex she handled graphic support, business-to-business proposals, branding and marketing materials. Earlier she was a senior graphic designer at a regional agency, creating and implementing graphic design and marketing programs for local and national home construction companies and real estate agencies. Brewer has a degree in fine art from the University of North Florida. She works in Adobe Creative Suite 4: Illustrator, InDesign, Photoshop, Dreamweaver; Microsoft Office Suite; Adobe Acrobat; and HTML.